Still Breathing: How to regain your life after being robbed. - Author Joe Braxton
$

10.00 On Sale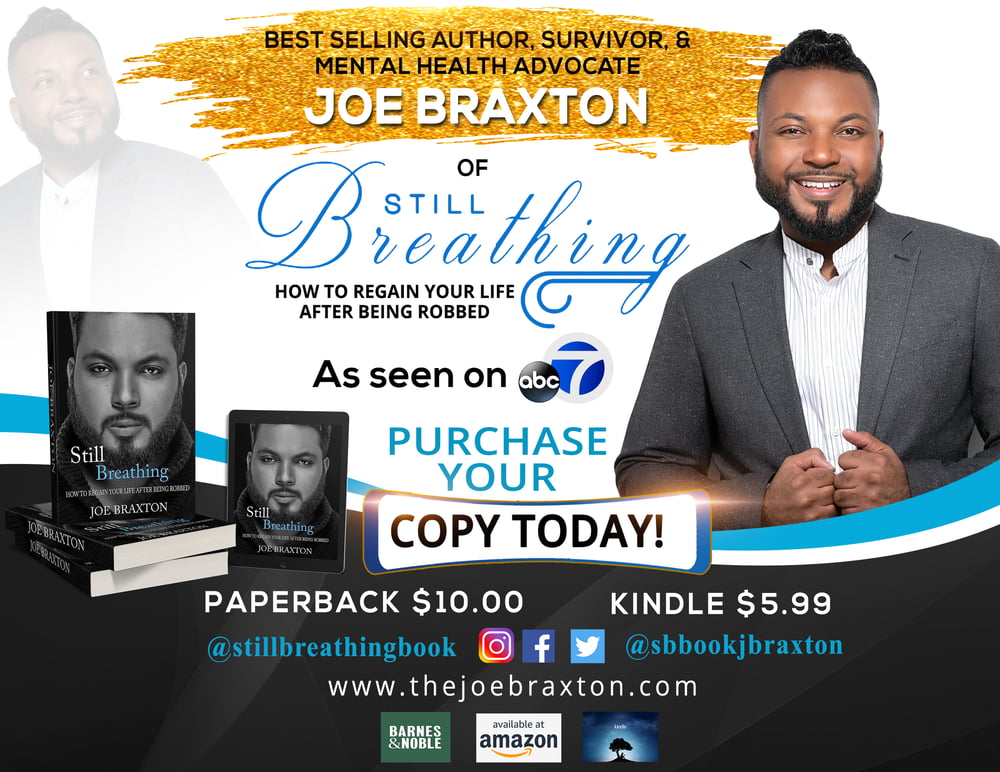 "The rawness, realness, pain, and honesty of Joe's story makes this a tremendously gripping read."
Still Breathing: How to regain your life after being robbed. What a perfect title for this book. Joe Braxton's story is an extremely powerful and courageous masterpiece about reclaiming the will to live. Joe leaves no stone unturned: vividly taking us on a journey of pain, caused by childhood sexual abuse to a life of self-love, priority, forgiveness, and purpose. Still Breathing is a welcomed addition to the mental health awareness arena. We need more voices like Joe's to help others. Joe tells his story in a thoughtful, intelligent, and mature manner; so that anyone can relate. Still Breathing is extremely helpful in understanding his struggles with a confusing and frustrating condition such as trauma dyslexia. This book is perfect for anyone who currently finds themselves living a life of silence or has ever lived through this pain. It is also a great reference to use to learn the warning signs to help avoid the start or continuation of sexual abuse.
Order your personally autographed copy now.
#stillbreathingbook
#stillbreathingjoebraxton
@stillbreathingbook IG
@SBBookJBraxton Twitter
https://www.facebook.com/stillbreathingjb
No refunds will be made.
Use discount code SAAM for free shipping.
Share